115 Van Pack Jetter
200 bar (3,000 psi) / 36 l/min (8gpm)
325 litre (72 gallon) water tank
Ideal for drains up to 150mm
120° pivoting hose reel
Enclosed design for improved safety
Built-in anti freeze system
Dry shut system
Enquire Now
Description
Our 115 van pack jetter cleans drains up to 150mm diameter. It is the smallest jetter in our van pack range and it has a Honda petrol engine which can deliver 3000 psi (200 bar) up to 8 gpm (36 l/min).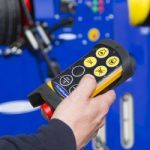 The 115 weighs under 600 kgs with 325 litres of water and it can jet continuously for 10 minutes. It is ideal for smaller vans with limited payloads or for multi purpose vans carrying lots of additional equipment.
The pivoting hose reel holds 90m x 3/8″ jetting hose. It can be swung to the left or right of the van making it easy to operate from both sides. The high pressure water selector is mounted conveniently on the swing arm. All the controls are easy to use and immediately accessible from the rear of the van.
The 115 van pack jetter also benefits from a 5 channel radio control (option). The handset is shock resistant and waterproof. It has a 100m range and operators can control the water pressure, engine speed and engine stop functions.
200 bar (3,000 psi) / 36 l/min (8gpm)
325 litre (72 gallon) water tank
Ideal for drains up to 150mm
120° pivoting hose reel
Enclosed design for improved safety
Built-in anti freeze system
Dry shut system
5 channel radio remote control
60 or 90m (300ft) x 3/8" hose
Safety leader hose
Tiger tail
3/8" Standard drain jets
Rotary descaling jets
Mini jet kit
9" Drain jet extension
Spray gun
Hose safety shroud
Safety equipment (PPE)
Length: 1135 mm
Width: 1200 mm
Height: 1120 mm
Approx. dry weight: From 270 kg
* All weights & dimensions are approximate.