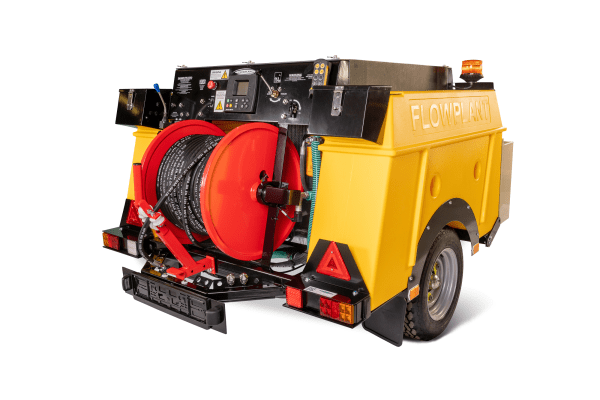 Flowplant offers a wide and varied range of reliable and versatile drain cleaning trailer jetters for sale. Options include:
Jetting performance up to 4000 psi & 20 gpm
Water carrying capacity up to 200 gallons
Single or double axle
Whether it's for domestic, commercial or industrial drain cleaning use, we can provide the ideal trailer mounted drain jetting unit, tailored to your particular requirements.
Each drain cleaning trailer supplied comes complete with a wide range of equipment as standard, handover instruction and the latest low emission diesel engine.
Most models of Flowplant trailer jetter are available with 7 channel Radio Remote Control . This makes the equipment suitable for 'One Man Operation,' enabling jetting operations up to 100 metres from the vehicle, saving not just operating and labour costs but also keeping your staff safe whilst carrying out their daily activities. All Flowplant trailer jetters have VCA type approval; this ensures your trailer mounted drain jetting equipment stays safe and legal.