Custom Build High Pressure Systems
Systems designed to meet your exact requirements
Proving trials can be offered
Performance options from 10 to 3000 bar and up to 450 kW
Safe and Hazardous area operation
Hot and cold water applications
Triplex plunger and Harben diaphragm pump options
FAT and SAT catered for
Onsite installation and commissioning
Enquire Now
Description
Custom Build High Pressure Systems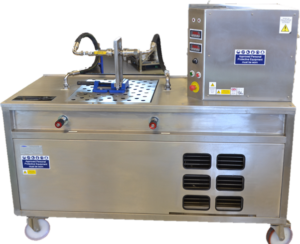 Flowplant can offer consultancy and technical assistance on a wide range of high pressure fluid pumping applications. We are able to provide custom design solutions across all applications. Some of our recent projects include:
Multi skid water jetter for local installation
High pressure pump skid for use in a nuclear reactor
Mountable of rail rolling stock
Recycling system for waste material
High pressure test rig with fast fill and chemical injection
Umbilical flushing unit with severe space limitations
Drain jetters for Zone 2 hazardous area
High pressure filter test rig
Broad Experience
Our experience with low viscosity water based hydraulic fluids has proved invaluable to many of our clients, saving them money and reducing downtime. Flowplant's engineering knowledge extends beyond that generally found in the oil hydraulics industry and our experience with high pressure control valves up to 1000 bar is often of particular value. Our sales engineers are happy to visit client sites, see the issues first hand and call on 50 years of application experience to provide compliant custom designed and cost-effective solutions.
Life Long Service
Flowplant equipment is constructed to exacting standards. To remain compliant and operating at optimum efficiency equipment must be serviced and maintained by trained and competent engineers. We provide full after sales service packages from our UK factory or any of our UK based ISO 9001:2015 quality assured service centres. Factory based service training schools, designed to meet customer's needs, can be arranged for those companies wishing to maintain their own machinery. Alternatively, our overseas clients have the option of using one of the ever growing group of Flowplant distributors; many have been supplying local back up for our pumps and systems for decades.
Many of our supply contracts involve Flowplant building equipment that is on the critical path of much larger projects – construction of PLSV's and FPSO's being such examples. At Flowplant, our engineers and project managers understand the importance of on time deliveries and they provide timely and accurate project updates allowing our clients to plan and schedule their overall project. They know that supplier document requirement lists (SDRL's) are a vital part of the build process and they encourage full client participation during the construction process and FAT procedure. We welcome feedback on all our projects, believing that this is the way to improve on every machine we deliver, turn our customers into partners and keep them coming back.
Systems designed to meet your exact requirements
Proving trials can be offered
Performance options from 10 to 3000 bar and up to 450 kW
Safe and Hazardous area operation
Hot and cold water applications
Triplex plunger and Harben diaphragm pump options
FAT and SAT catered for
Onsite installation and commissioning