Revolutionising Telecom Duct Maintenance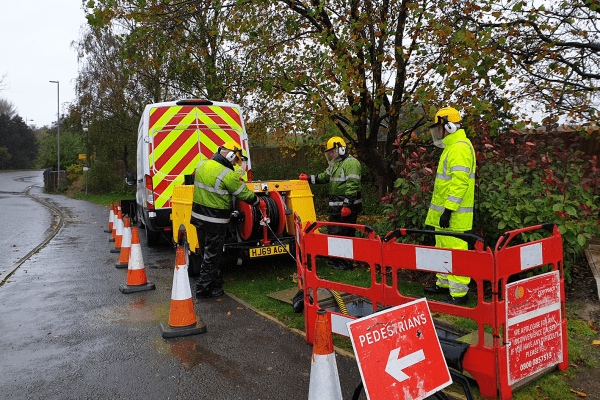 In the world of telecommunications, a vast underground network of ducts serves as the lifeline of connectivity. However, when these ducts become clogged with silt, deep-rooted problems emerge. The telecommunication industry faces a unique challenge: How to clear these ducts effectively without causing harm to the existing infrastructure? Flowplant Group Ltd has not only addressed this challenge but has elevated it to new heights. Today, we delve into the world of cable duct desilting and look at how we are revolutionising Telecom Duct Maintenance.
Understanding Cable Duct Desilting
Cable duct desilting is the process of using a high-pressure water jet, connected to a long flexible hose to gently clear hard silt from inside cable ducts. Flowplant pioneered the technique, hailed as a game-changer, back in the 1980s. Since then, it has been the go-to method for unblocking thousands of kilometers of underground ductwork.
The Critical Need for Duct Desilting
Telecom ducts, hidden beneath the earth's surface, bear the weight of our connected world. Yet, these ducts face a constant threat – the intrusion of silt, carried deep into the system by rainwater. The ducts can be crowded with existing cables, demanding a cleaning method that is both gentle and powerful. Traditional cleaning methods like duct rods, and vacuum tankers often fall short, leaving no recourse but to dig up and replace the ducts. This not only causes significant delays, disrupts traffic, incurs massive traffic management costs, but also delays in obtaining site permits.
Flowplant's Decades-Long Commitment
Flowplant, in collaboration with network providers and contractors, has dedicated years to developing a unique desilting system. Capable of meeting these demanding requirements and designed specifically for the telecom industry. The Flowplant Desilter range harnesses the power of high-pressure water to unblock, clean, and rope ducts seamlessly in one process.
As Adam Steel from Openreach affirms, "We have been using the Flowplant Harben De-silt machines in our daily operations throughout Yorkshire for the last 5 years. The feedback from our engineers in this time has been that the machines have proved invaluable in delivering the best service to our customers, jetting our existing communications network safely. These machines have saved millions in costly civils work within the telecoms arena, as well as reducing delays in delivering service to our valued customers and unnecessary excavations in the public highway."
Drew Benham of Comcore echoes the sentiment, stating, "Our jetting Desilt unit from Flowplant has been a great investment for Comcore and has given our cabling engineers the ownership and capability to stay one step ahead of a very common challenge on the network. The Flowplant unit saves us time, cost, and improves our ability to deliver for clients. We highly recommend Flowplant's products and services!"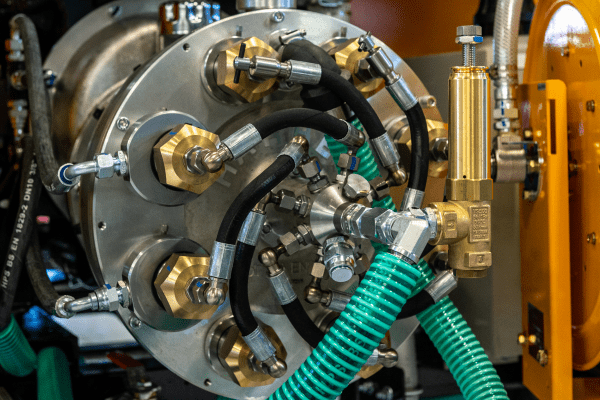 Flowplant's Revolutionary Solution
Flowplant's cable duct desilting technique is powered by the Harben pump and a unique jump jet system, offering three key advantages over less advanced water jetting methods:
Gentle yet Effective: Lower water pressures, as low as 140 bar, ensure that existing cables are at minimal risk of damage.
Unrivalled Cleaning Power: The jump jet system pulses the cleaning nozzle through even the toughest blockages, enabling cleaning over extreme distances.
Efficiency Redefined: Flowplant's system minimises water usage, maximising cleaning distances and reducing costs.
Benefits of Flowplant Desilters:
Reduced Costs: You can clear ducts without the need for excavation and traffic management, saving time and resources, and avoiding the requirement for site permits.
No Risk to Cables: The Harben Desilter uses pressures that pose no risk to cable damage, ensuring the network's integrity.
Unmatched Speed: Operators have cleaned over 500 meters from a single-entry point, thanks to the combination of the Harben pump, Jump jet, and low-friction hose.
Civils Avoidance: Flowplant's desilting system has a proven track record, preventing road closures and excavation in thousands of ducts.
Customisable: Developed in collaboration with engineers who use our desilters daily, we offer a range of accessories to enhance productivity.
Join us on the journey towards a cleaner, faster, and more connected future. Explore Flowplant's range of desilters and experience the next level of efficient, cost-effective, and cable-friendly desilting solutions. Visit our website to learn more. Unleash the power of Flowplant, where innovation meets excellence.
Hire options also available through our partners at Fusion Utilities, for more information fill in our hire enquiry form here.
Related posts
We are thrilled to introduce the launch of the Jet Buggy, our new high-pressure water jetter,..
Read more