Introducing Your New High-Pressure Water Jetter, the Jet Buggy!
We are thrilled to introduce the launch of the Jet Buggy, our new high-pressure water jetter, a powerful, compact, and portable high-pressure unit designed to revolutionise industrial cleaning. This compact and powerful machine is about to make waves across many industrial sectors. Engineered with precision, this compact powerhouse ensures safe and comfortable use, underlined by an ergonomically engineered design.
What's So Special About the Jet Buggy?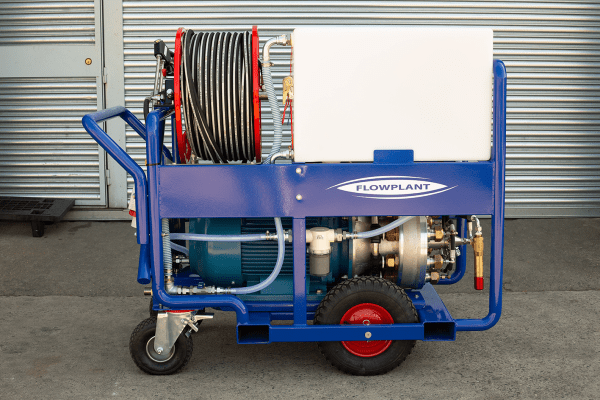 ENGINEERED FOR USER SAFETY & COMFORT – This ensures that operators can confidently utilise the equipment while minimising discomfort or strain, thereby promoting a safer and more comfortable working environment.
HARBEN PUMP – An array of compelling advantages. Reduced parts wear translates to minimised downtime, while the ability to jet efficiently with unwavering pressure and flow ensures optimal performance. These pumps can run dry indefinitely without damage and handle various fluids, including sea water. Notably, the innovative "Jump Jet" feature provides on-demand pulsation, enhancing manoeuvrability. Overall, Harben pumps stand as a pinnacle of durability, efficiency, and versatility in the industry.
EFFORTLESS MAINTENANCE – Engineered to ensure that maintenance tasks can be carried out with ease and efficiency. By removing the need for complex disassembly, the Jet Buggy allows users to conduct routine maintenance effortlessly, with everything accessible, saving both time and resources.
POWERFUL – The impressive jetting power at your disposal ensures that even the most challenging jobs can be tackled effectively and swiftly.
COMPACT – The Jet Buggy offers a compact and portable design, making it versatile and adaptable for a diverse range of environments and applications.
CUSTOMISABLE – By providing a diverse range of customisable features, we enable you to tailor the equipment to your unique preferences, tasks and constraints. This approach guarantees that you can achieve an optimal fit for your needs, resulting in a solution that's as individual as your demands.
Barry Pidgeon, our Sales Director said: "The Jet Buggy is the perfect solution for confined spaces or remote cleaning requirements, it's compact, portable and powerful. Our engineering team did a fantastic job of listening to customer feedback and designing a unit which will not only deliver powerful, effective, and efficient cleaning, but also provide comfort and ease of use."

Incorporating cutting-edge features and adaptable elements, the Jet Buggy is a testament to efficient design, addressing your unique needs with precision. Whether it's enhancing sustainability, providing self-sufficient operation, or offering tailored specifications, this unit has it all. Experience the power of customisation and reliability as you take on tasks with confidence and ease.
Moreover, the Jet Buggy offers an exceptional level of adaptability, as it can also be supplied with ATEX certification. For industries operating in Zone 1 or Zone 2 Hazardous areas, it ensures the unit's safety and compliance with the strictest standards in potentially explosive environments. With this certification, the Jet Buggy becomes an invaluable asset for those working in such challenging conditions, further underlining Flowplant's commitment to providing comprehensive solutions tailored to our customers' unique needs and safety requirements.
The Jet Buggy isn't just a product; it's a solution designed with a focus on innovation, reliability, and expert engineering. To find out more about the Jet Buggy fill in our online enquiry form, download our brochure or give the team a call today on 01722 325424.
Related posts
In the world of telecommunications, a vast underground network of ducts serves as the..
Read more